Mazagran is really pleased to announce its new release:
mz008 – enore zaffiri – musica per un anno, march 28th, 6 p.m.
digital implementation by andrea valle
(CD – special paper/carton folded sleeve with 12pp-booklet, original program notes by Andrea Valle and Vincenzo Santarcangelo)
"Electronic music for the sonorisation of environments. It is music in time, designed for the duration of one year. The sound event changes imperceptibly but continuously in relation to months, days, hours, minutes. Every moment has its own unique music that blends with the light and the surrounding atmosphere. It is a 'presence'. It is a music that should not impose itself, that should not distract or daze, that should not force the user to immobility. Being music in time, without beginning or end, it is always 'important' at any time you want to listen to. It is a music that responds to the needs of the contemporary man that, while visiting an exhibition or a museum, absorbs multiple experiences addressing appropriately and actively the cultural needs of our time." (E.Z.)
Musica per un anno is a pivotal project by Italian pioneer of electronic music Enore Zaffiri. In 1968 Zaffiri devised a project to create music for each hour of the year, by providing precise instructions to organise various layers of sinusoidal sounds. Working in isolation but ideally sharing the same attitude of La Monte Young's approach to sound in time and space of those same years, Zaffiri created some tape versions of his masterpiece. The version recorded in this album is a radically pure digital implementation of 1 hour of Musica per un anno, and has been realised by Andrea Valle in strict cooperation with Zaffiri, faithfully respecting the composer's original, abstract project.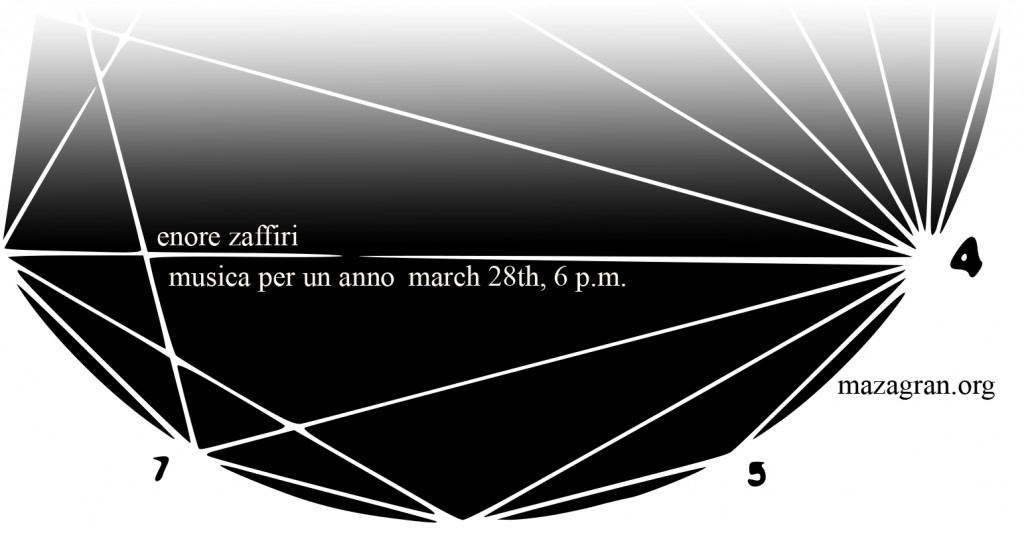 …more info soon…